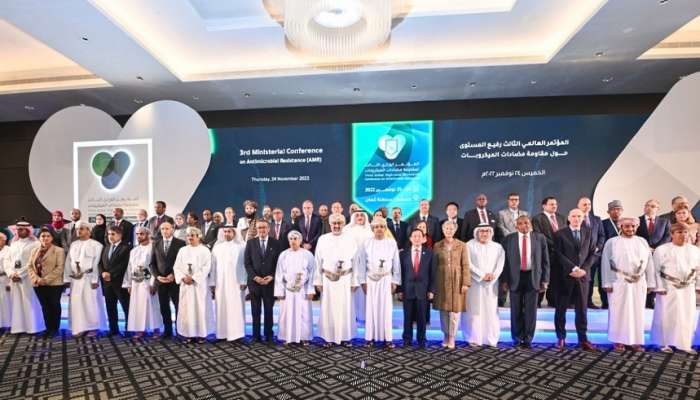 Muscat: Delegated by His Majesty Sultan Haitham bin Tarik, HH Sayyid Taimour bin Asa'ad bin Tarik Al Said, Chairman of the Board of Governors of the Central Bank of Oman (CBO) inaugurated here today the 3rd Global High-level Ministerial Conference on Antimicrobial Resistance (AMR), being hosted by the Sultanate of Oman.
The opening ceremony commenced by an opening speech of Dr. Hilal bin Ali Al Sabti, Minister of Health during which he affirmed that the Sultanate of Oman has achieved great strides in countering AMR.
He added that organizing this conference is a testimony of the major attention accorded by Oman's government under the leadership of His Majesty Sultan Haitham bin Tarik to tackling this kind of medical risk.
He noted that an estimated (1.3) million people around the world died in 2019 due to antimicrobial resistance, according to a study published recently.
Dr. Al Sabti affirmed that a national AMR strategy to join public and private sectors forces was developed in Oman, in addition to establishing the national surveillance system.
He added that steps achieved in this regard include the enhancement of diagnostic capacity and raising community awareness on AMR.
Oman has a leading role in issuing a decision on developing a global strategy on infection prevention and control from the World Health Assembly 2022, Al Sabti elaborated.
In his speech, the Minister of Health laid emphasis on Muscat Ministerial Manifesto, which will be the key outcome of this conference. He pointed out that, for the first time, it contains indicators for tracking antibiotic consumption in human, animal, and food health in order to follow up implementation of national and international plans as part of One Health framework.
Dr. Saud bin Hamoud Al Habsi, Minister of Agriculture, Fisheries and Water Resources, said in his remarks at the opening ceremony that the efforts made by Oman in preventing and controlling prevalence of AMR centred in two fundamental areas.
The first, the minister added, is represented in adopting policies and legislations that ensure animal health and food security, in addition to promoting food risks system and implementing epidemiological surveillance programmes.
The minister added that the field involves immunization and community awareness, rehabilitation, and building up human resources, setting up laboratories, and food facilities. These efforts go beyond the field of biosecurity and food safety to the scope of food quality and nutritious foods, which play an important role in bringing about nutritional behavioural changes that contribute to combating antimicrobial resistance.
Dr. Saud pointed out that the second area addresses the operational procedures of banning the use of antibiotics, growth promotors and some of animal treatment antibiotics, in addition to organizing awareness programmes related to causes and effects of this phenomena in food security. The programmes aims at raising awareness to adopt good practices in all stages of production and processing of animal and plant-based foods, focusing on preventive medicine and vaccination policies to prevent animal epidemics and common diseases, and educating producers about applying biosecurity measures and improving management and production systems.
The minister affirmed at the end of his remarks that an emphasis should be laid on accelerating management of this global risk at national and regional levels. This requires, the minister observed, a political commitment to implement international guidelines and standards and develop proper national legislations.
Ernst Kuipers, Minister of Health, Welfare and Sports in the Netherlands gave a speech pointing out that the rise of antimicrobial resistance remains one of the biggest, complex and growing global public health threats of our time.
He added that misuse and overuse of antimicrobials are the main drivers in the development of drug-resistant pathogens. AMR threatens the effective prevention and treatment of an ever-increasing range of infections. It affects the health of millions of people. AMR directly threatens the achievement of the Sustainable Development Goals (SDGs).
Kuipers highlighted the Netherlands efforts in addressing AMR that are observed in organizing the two previous Ministerial conferences on AMR. He further stressed necessity of international cooperation to counter AMR.
Dr. Tedros Adhanom Ghebreyesus, WHO Director General, underscored in his speech the risk posed by of the antimicrobial resistance, as it has not received the attention it deserves worldwide. He hoped that this conference would contribute to establishing societal and ministerial cooperation to combat these antimicrobials, which is the way to address the problem of antimicrobial resistance.
Further, the opening ceremony of the third Global High-level Ministerial Conference on AMR shed light on the Multi-Stakeholder Partnership Platform on AMR, which was launched by the Quadripartite Organizations where they joined forces on this initiative to underscore the threat AMR presents to humans, animals, plants, ecosystems and livelihoods.
The AMR Multi-Stakeholder Partnership Platform aims to catalyse a global movement for action against antimicrobial resistance by fostering cooperation between a diverse range of stakeholders at all levels across the One Health spectrum. It seeks to ensure a healthier, more sustainable and resilient present and future in which antimicrobials are preserved as critical lifesaving medicines accessible to everyone.
The Directors General of the four World Organizations and Deputy Prime Minister of Malta and the Global Leaders Group on AMR delivered speeches that emphasized the magnitude of the AMR threat that goes far beyond human health, threatening animal health and welfare, the environment, food and nutrition security and safety, and economic growth. They all agreed that to mitigate the rise of AMR, a One Health approach is needed that enables actors from different sectors to design intervention strategies that synergize and complement each other, resulting in one coherent global effort to tackle AMR.
Moreover, efforts of the Sultanate of Oman to address AMR was displayed at the opening ceremony.
The opening ceremony witnessed presence of their highnesses and ministers from the Sultanate of Oman, in addition to the participation of more than (30) ministers and representatives from more than (40) countries worldwide representing human health, animal health and environment.
The agenda of the conference's programme includes ministerial plenary sessions on AMR and the political response, key challenges for the AMR response, and sharing solutions and innovations on the issue.
The first day of the conference included four key parallel sessions moderated by renowned international speakers from specialized organizations and institutions. The sessions addressed integrated surveillance, country implementation, political action and financing, and research and development.
The theme of the conference this year is "The AMR: from Policy to One Health Action". It aims to accelerate tackling the antimicrobial resistance at the national, regional, and global levels, as well as to enhance international cooperation.
The conference is organized by the Sultanate of Oman, represented by the Ministry of Health and the Ministry of Agriculture, Fisheries and Water Resources in cooperation with the GCC Health Council as well as the Quadripartite Alliance formed by the United Nations (UN) to monitor antibiotic resistance – World Health Organization (WHO), Food and Agriculture Organization (FAO), the World Organization for Animal Health (WOAH), and the United Nations Environment Programme (UNEP).